Professional WP Themes
If you are looking for professionally supported Themes, we recommend the outstanding, elegant WordPress Themes by Nick Roach. Use as many Themes as you want out of more than 70 layouts for a flat fee of only $39! » Visit Elegant Themes now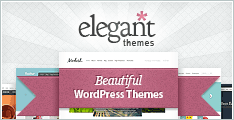 Welcome everybody!
I'm Jay Buckmaker. I've started with WordPress Themes in 2007. In 2008 my design "Aeros" was featured and the #1 design at wordpress.org. Here at TheBuckmaker.com I'll show you how to begin with WordPress, as well as style your Wordpress website.
New to WordPress?
... and/or your own website in the Internet?
Our free WordPress Themes
Unsupported, basic free web templates to start from, in use on hundreds of websites all around the world. Aeros
Preview
|
Download
Aerodrome
Preview
|
Download
Aer
Preview
|
Download
These basic templates are GPL compliant and free for unlimited & unrestricted use. Please tell your friends and visitors about this, thanks!
UNLIMITED WordPress Hosting?
Are you looking for a stable, fast and unlimited web hosting provider for your WordPress website?
Hostingselector.com compares the top 10 web hosting companies
that offer UNLIMITED web hosting, based on 100% real customer ratings and reviews. It's one of the very few
HONEST
rating sites out there, and highly recommended. Please help the team of Hosting Selector by submitting your own experiences and rating for your webhost, thanks!